October 30, 2014, Beijing, China – Spansion, Inc. (NYSE: CODE) , a global leader in embedded market flash memory solutions, today added 96 new products to its Spansion® FM4 MCU family. Based on the ARM® Cortex®-M4F core, the new MCU operates at up to 200MHz and supports a wide range of on-chip peripherals for enhanced Human Machine Interface (HMI) and Machine-to-machine (M2M) communication. Rich peripherals and high-capacity storage provide single-chip solutions for a wide range of applications, including factory automation, industrial IoT, motor control, office automation, building management systems, smart meters, digital cameras and multifunction printers.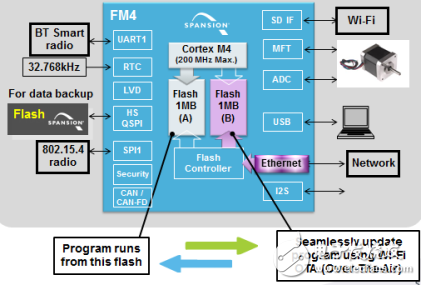 Dhiraj Handa, senior vice president and general manager of the mass market microcontroller division at Spansion, said: "With a 200 MHz operating frequency and 2MB of flash memory, the S6E2Cx family of MCUs supports dozens of the latest and most popular M2M and industrial IoT high-speed communication standards. Dual flash arrays support seamless wireless (OTA) in-app reprogramming. In addition, our high-performance, large-memory MCUs offer exclusive 5V I/O. It simplifies design and designers only need to design for 5V MCUs. A regulator and continue to use the 5V logic and power drivers common to industrial embedded applications."
Key features and benefits of the Spansion S6E2CC series MCU
Ultra-high performance: The SpansionS6E2CC series MCUs are based on the ARM Cortex-M4F with a maximum operating frequency of 200 MHz. Its architecture is optimized to efficiently transfer data using a 16kB flash accelerator for zero wait states. Without the intervention of the CPU, data can be transferred from the peripheral to the RAM or from the RAM to the peripheral via an 8-channel DMA or a unique and powerful description of the System Data Transfer Controller (DSTC).
Up to 2MB of flash and 256 KBSRAM of storage: Spansion Flash has industry-leading 72 MHz access speeds. The flash is divided into two separate areas, one for erasing and programming, and the other for running code. High-density RAM meets the operating system's need for large-capacity storage and is useful for caching audio data or Ethernet traffic.
Supports more than ten different communication and storage interfaces: Spansion S6E2CC series MCU supports the following interfaces:
Ethernet (Ethernet) – for high speed bulk data transfer;
CAN and CAN-FD – for connecting automotive and industrial real-time networks. CAN-FD supports flexible data rates and larger data packets, making it ideal for industrial IoT;
NOR flash, NAND flash, SDRAM and SRAM storage;
Secure Digital Input Output (SDIO) – for connecting high-speed Wi-Fi chipsets and portable devices such as digital cameras, GPS navigation devices, and handheld game consoles;
Full-speed USB – supports host and device modes;
I2S – a standard interface for connecting digital audio equipment;
HD Multimedia Interface – Consumer Electronics Control (HDMI-CEC) – allows one A/V component to control the other;
Universal Serial Interface (GPSI) – Up to 16 channels of UART, SPI, I2C or LIN interface. It is up to the user to decide which function to assign to each channel.
Motor control function:
Spansion has dramatically improved motor operation with three high-speed analog-to-digital converters and three complex clock modules. Industrial applications and safety critical applications can benefit from programmable cyclic redundancy check functions for memory verification, flash error checking and correction, a clock monitor and dual watchdog timers.
Supply and pricing
Samples of the Spansion S6E2Cx series of MCUs are currently available and will be available in volume quantities starting in the first quarter of 2015. The starting price is $10 and the minimum order quantity is 1500.
Spansion related resources:
· SpansionS6E2CC data sheet: http://S6E2CC_DS709-00009-E.pdf
· Spansion News Center: http://CN/About/News/Pages/Default.aspx
· Spansion Core & Code Technology Magazine and Blog: http://core.spansion.com
· Spansion Chinese blog: http://blog.sina.com.cn/u/2862573502
· Spansion Weibo: http://weibo.com/spansionchina
About Spansion
Spansion (NYSE: CODE) is the world's leading manufacturer of flash-based embedded systems. Spansion's flash, microcontroller, analog and mixed-signal products drive electronics toward faster, smarter, safer and more energy efficient. Spansion products are at the heart of electronic systems, supplying products to a wide range of fields, including automotive electronics, industrial systems, and highly interactive and emulated consumer electronics devices, enabling systems to connect, control, store and enhance their performance to enrich people's daily lives. life. For more information, please visit: http://.
Spansion®, the Spansion logo, and combinations thereof are trademarks of Spansion LLC registered in the US and other countries. ARM and Cortex are trademarks of ARM Limited. Other names are for informational purposes only and may be trademarks of their respective companies.
Description of self closing wrapping Split Braided Cable Sleeving
PET White Self Wrapping Split Braided Sleeving for cable management (PET woven mesh tube) is braided by environment friendly polyester monofil. PET is with good flexibility, fire resistance, abrasive resistance and thermal insulation performance. The sleeving are smooth surface, bright color, various patterns.
self-closing wrap offers innovative solutions for the protection of breakout areas and provides easy removal when is necessary an inspection or maintenance of cables. The special open structure allows to be installed after other components, for example copper terminals and connectors.
Self Closing Wrap is a non-Expandable Sleeve woven from monofilament weft and multi-filament warp.
It provides a lightweight, cost effective and tough solution for protection of a wide range of wire and cable.
Its inherent flexibility allows it to be bend, coil and fit with irregular shapes while its open design allows it to be install on finished assemblies quickly.
Key Specifications/Special Features:
· Expandable sleeve is flexible, flame-retardant , abrasion resistant and high-density woven polyester that meet RoHS standard. The braid is able to expand up to 3 times
· Temperature range: -40oC ~ 125 oC.
· Flammability: self-extinguishing according to UL94-v
· Melting point: 240oC±5oC.
Dose not trap heat or humidity Rot-free , Self-fitting over many shapes and sizes Self-extinguishing when used to encase typical non-flammable wires or cable Fray resistant.
Self Closing Wrap Sleeve,Split Braided Sleeve,Self Closing Wrap Cable Sleeve,Split Braided Cable Sleeving
Shenzhen Huiyunhai Tech.Co.,Ltd , https://www.hyhbraidedsleeve.com