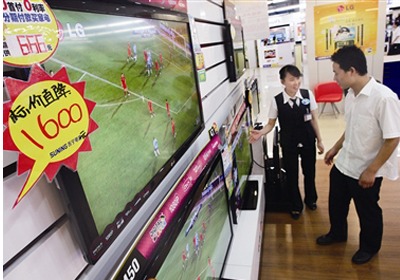 After the end of the energy-saving subsidy policy, the color TV sales volume will decline slightly, and the new energy efficiency rating standard will be implemented. There are a large number of stocks to be disposed of, and manufacturers and channel dealers have stepped up promotion efforts. According to data calculation by Zhong Yekang, sales of smart TVs in the second half of this year will contribute a lot to the color TV industry. Sales of smart TVs will reach 26.1 million units in the year.
Color TV prices are bottoming out

Recently, Suning, Gome and Dazhong have launched promotional campaigns related to color TVs. Store related personnel said that compared with the past, the activity is more intense, more participating brands, and the three stores started color TV promotion activities in the same period, it is not difficult to see the fierce competition in the market.
Suning staff introduced to reporters that starting from 2008, Suning will hold a large-scale color TV festival each summer. This year's TV promotion campaign is also part of the "ten thousand lanes and empty alleys" snapping up campaign launched by Suning cloud merchants in May this year, with low promotional efforts. To 70% off. It is understood that, in addition to straight down and coupons and other major promotional tools, Suning designed a variety of combination packages, such as the purchase of bedroom TV, living room TV and stereo, there is value discount and so on.
In addition to regular promotions, Suning is also trying new marketing models. It is reported that Suning Fuxing Road will cooperate with many companies such as Red Star Macalline and Supermarket to hold "Partners in Partnership in Beijing Purchasing", and TV sales promotion is unprecedented. "Now the gross profit rate is getting lower and lower, and innovation is required to maintain stable growth," said Wang Haiyan, manager of Suning Fuxing Road Shop.
Gome is relying on the high-end forum of the color TV industry and has signed 595 million purchase orders with famous manufacturers such as Haier, Hisense and Samsung. With such supply support, Gome TV's maximum promotional efforts are as low as 50%. In the low-price battle of Gome, smart TVs occupy the high ground of sales promotion. Among purchase orders, smart TV accounts for 65%. In addition, the United States also launched the "Direct CEO signings straight down" activities, the maximum reduction of 2,000 yuan.
Suning and Gome launched low-cost promotional activities for color TVs in the same period. Dazhong Electric did not seem to participate in the "war" but actually launched promotional activities. Before the launch of the above two events, the opening ceremony of the Dazhong Zhongta Electric Appliance Plaza was launched, and the color TV promotion was also very strong, attracting many consumers. The opening ceremony has just ended. Dazhong and Sony (20.2, 0.07, 0.35%) and other companies will launch super-in-house purchases. It is reported that 42-inch smart LED TVs sell for only 3,699 yuan. Activities have not yet begun. There are already many consultants.

Smart TV or bailout

From the point of view of the sales force and concentration of offline stores, each of them is prepared for playing hard. Analysis of the industry, a number of stores focused on TV promotional activities, and the end of energy-saving subsidies have a great relationship.
After the energy-saving subsidy policy ended on May 31 this year, the original growth in color TV sales slightly declined. According to data from Zhong Yikang, in June of this year, the volume of retail and retail sales of color TVs both declined, with TV sales of 2.21 million units, a year-on-year decrease of 17.12%, and retail sales of RMB 8.5 billion, a year-on-year decrease of 12.43%. In order to no longer appear to be dependent on policy, manufacturers and channel providers can only launch unprecedented promotional activities to stimulate market demand.
In addition, the new energy efficiency rating standard that will be implemented on October 1 this year is also a reason for the concentration of color TV sets. After the implementation of the new energy efficiency rating standards, a group of inefficient products will be withdrawn from the market. At this time, promotion is the time.
In fact, in this concentrated sales promotion campaign, energy-efficient smart TVs are key promotional products. Just like Gome, smart TVs already account for 65% of purchase orders. According to a survey of the market, Jia Dongsheng, general manager of Zhong Yi Kang, said that the advantage of smart TV is that it can integrate the interests of all the family members in information acquisition and entertainment. It will become a new trend in the development of the color TV industry. Zhong Yi Kang predicts that sales of smart TVs will reach 26.1 million units in 2013 and 36.14 million units in 2014. Ultra HDTV is expected to reach 900,000 units this year, and it will reach 3.2 million units in 2014.
Our Led Street Light is all in one solar design,street light is the product integrated design with led light source, high capacity lithium battery, mono-crystalline solar panel,which have the higher conversion rate for the solar energy convert into electricity. The integrated Solar Street Light saves more energy with its built-in microwave sensor, this sensor allows the street to power down/dim to 30% power saving battery energy when no-one is around.When anyone or anything approaches to within several feet, the sensor will bring the light back to 100% creating a safe area full of light.This product are perfectly used for rural roads,city streets,gardens,playgrounds,courtyards,entrances,parks,villas,gates,laneways etc..
Led Street Light
Led Street Light,Solar Street Light,Led Street Lamp,Outdoor Street Light
Guangdong guangzhidian lighting Co., Ltd. , https://www.gzdlighting.com