Ling Qingxin is a distributor of Jeep and Shifu brand in Shenyang Shilihe Lighting City. He told reporters that the LED industry is just getting started and has a bright future. He is also focusing on brand awareness and deliberately looking for products with high cost performance and good customer satisfaction. . The upcoming High-tech LED Exhibition is a very good platform for choosing brands and cooperation.
"To do the lighting yourself, the general search for the brand is mainly to see the brand's reputation in the market, to see how customers and consumers respond to the brand, and the other is to find their own brand through some professional media magazines." Ling Qingxin The reporter said.
When talking about finding a brand through the exhibition, Ling Qingxin chatted with the reporter: I have not gone through the exhibition to find the brand experience, but now there are more cases, mainly due to some dealer conferences, as well as manufacturers in the local The promotion meeting, etc., there are also many successful cases of cooperation with manufacturers.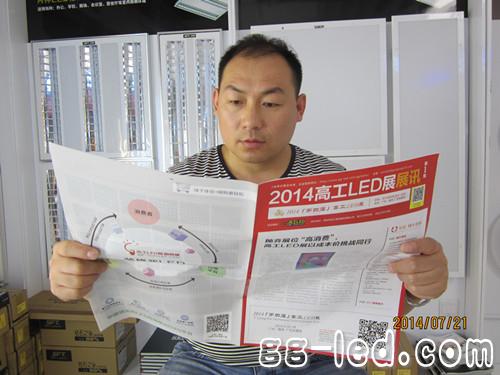 Speaking of the upcoming high-tech exhibition in Guangzhou, Ling Qingxin showed strong interest. In his mind, the successful exhibition is first of all professional, and professional media should be invited to participate, so that it can better report and publicize the exhibition, so that dealers and friends all over the country can understand the dynamics of the exhibition in the first time. Secondly, success The exhibition should be integrated resources, including the upstream and downstream industry chain, supply and demand sides. "On-site orders can be made to promote cooperation between supply and demand, which is a truly successful exhibition."
Ling Qingxin said that if you go to the high-tech exhibition, you want to cooperate with the high-end brands, because now China's LED market is seriously primitive, and the entire industry has a lot of brands. To be low-end, the performance in the market is too chaotic, the quality can not be guaranteed, so I dare not do it, because after all, I am responsible to the customer.
Now I am more willing to cooperate with Jiamei and Philips. (Shenyang Station reporter Xu Chengxin)

15A 125V GFCI Receptacle with LED light indicator does not protect against circuit overload, short circuits, or shocks. For example, you can still be shocked if you touch bare wires while standing on a non-coducting surface such as a wood floor.
Automatic fault alarm, if GFCI malfunction, the LED will flash, the power will be cut off.
GFCI WR Receptacle,GFCI 20A WR Outlet UL 2015,GFCI 20A WR Outlet Self Testing,GFI WR 15A Self Testing
Hoojet Electric Appliance Co.,Ltd , https://www.hoojetgfci.com