At present, automotive body electronic systems are using a large number of electronic technologies, with the goal of improving the safety, reliability and comfort of automobiles.
This article refers to the address: http://
From this year's major auto show in the world, it can be found that almost all of the improved models have made a big fuss about their safety performance. Automotive industry experts believe that electronically controlled safety systems and intelligent driving systems will become "a revolution in the automotive industry." To this end, well-known MCU vendors are developing low-power, high-performance, multi-function 16-bit MCUs to meet the increasing market demand.
This article introduces Freescale Semiconductor's newly introduced 16-bit MCU series MC9S12XS (S12XS) optimized for cost-sensitive automotive body electronics applications. Its excellent compatibility and development flexibility are ideal for the start-up Chinese automotive industry market. .
1 Broad compatibility for more applications
Automotive electronics customers are always looking for ways to keep software and hardware re-used in their applications and platforms while reducing development costs and development time. The introduction of the S12XS series offers customers a complete range of compatible low-cost 16-bit products, giving customers more flexibility in body electronics design.
Freescale's S12 family of MCUs is the most widely used 16-bit architecture in the automotive market. The annual shipments of S12-based devices have exceeded 100 million. The scalable S12 family offers developers a wide range of options, with on-chip flash capacity extending from 32KB to 1MB and easy migration to higher performance S12X devices.
The S12X family of 16-bit microcontrollers further enhances the functionality of the HCS12 family and is ideal for body control and gateway applications. The S12X Series retains the 16-bit efficiency of the HCS12 and creates an efficient migration path that helps save users' investment. The S12XS series is a 16-bit MCU developed specifically for a variety of cost-sensitive automotive body electronics applications to meet customer demand for design flexibility and platform compatibility. The devices are available in six models with flash memory ranging from 64KB to 256KB and packages ranging from 48 pins to 112 pins. Customers have the flexibility to choose between different capacities of memory, packaging and price to meet the needs of their specific application.
As an extension of the S12X series, the S12XS series expands the economics and compatibility of the recently introduced high-performance S12XE series, broadening the entire S12X product line to provide customers with lower cost and smaller package products. . The S12XS and S12XE families are available with complementary memory, peripherals and a variety of packages. If application requirements change during the development phase, the flexibility of the S12XS Series can help designers react quickly to market changes and reduce migration costs. In fact, all S12 and S12X series products have scalability across the entire automotive electronics platform, and their hardware and software are reusable and compatible.
In the application development process, customers can use the S12XE series as the development platform for the S12XS series. Designers can use the S12XE family of products as a simulation tool to maintain compatibility when developing applications for the S12XS family of products. This helps reduce constraints and allows code written for the MC9S12XE family of devices to run on the MC9S12XS family of devices without modification.
2 A wide range of cost-effective options
With five times the performance of the HCS12 microcontroller, the S12X family features an enhanced core and enhanced peripherals that increase bus speed (up to 40MHz and HCS12 up to 25MHz) with full CAN functionality. And improved interrupt handling capabilities. The S12X adds a parallel processing XGATE module. The module is an intelligent, programmable direct memory access (DMA) module that performs interrupt processing, communication, and data preprocessing, and frees up some CPU space for other tasks to improve performance.
The S12XS series is a cost-effective addition to the high-performance S12XE MCU series. Compared to the S12XE series, the S12XS has been streamlined in the following areas. In terms of peripherals, peripheral devices are reduced. In terms of memory mapping, the S12XS series devices do not have emulated EEPROM (EEE), RAM, data flash is smaller than similar S12XE series devices; the mapping of these modules is upward compatible. In terms of flash memory, the flash memory of the S12XS series is 64KB to 256KB, while the flash memory of the S12XE series is 128KB to 1MB.
The main features of the S12XS series include:
(1) 32MHz core and bus speed;
(2) 64KB, 128KB and 256KB flash options with error correction code (ECC);
(3) 4KB to 8KB data flash with ECC, which can be used for data and program storage;
(4) Select a configurable 8, 10 or 12-bit analog-to-digital converter (ADC) with a conversion time of 3 ms;
(5) Support for Control Area Network (CAN), Local Interconnect Network (LIN), and Serial Peripheral Interface (SPI) protocols;
(6) 8-channel timer with 16-bit counter;
(7) Excellent EMC/operating and stopping current performance;
(8) Various package specifications for small pins:
―48QFN, 7mm × 7mm × 1mm, 0.5mm pitch;
―64QFP, 10mm×10mm×1.4mm, 0.5mm pitch;
―80QFP, 14mmx14mm×2.2mm, 0.65mm pitch;
―112LQFP, 20mm×20mm×1.4mm, 0.65mm pitch;
(9) Use the extensive support tools provided by the S12X series.
3 Rapidly develop intelligent and efficient applications
Body electronic systems mainly include: anti-lock brakes, body stability control, airbags, anti-collision alarms, anti-theft, rearview mirror memory, air conditioning, central locking, seat position adjustment, door control, etc. These applications typically transmit data at low data rates while requiring high current drive modules to drive the motor and actuator. As the complexity of automotive body control applications continues to increase, the performance requirements for 16-bit microcontrollers (MCUs) are also increasing.
With the S12XS series of MCUs, you can develop advanced application functions, such as anti-collision systems with intelligent cruise control. When the car is too close to other vehicles or deviate to another lane during driving, the system will automatically alarm; If the two cars are about to collide, the system will automatically brake. It is also possible to develop applications that automatically brake in the event of a crash, close the window, pull down the sun visor, tighten the seat belt, and adjust the seat to the safest position. These body electronics systems can be implemented with the S12XS series at a lower cost and compatible development platform to meet the increased demand for automotive functionality and safety in the future.
The S12XS Series features an improved on-chip peripheral, memory and package options optimized for automotive body and passenger comfort applications for seat controllers, HVAC control modules, steering wheel controls and sun visors . Small devices in QFN packages (7mm x 7mm) are ideal for space-constrained applications such as small actuators, sensor modules and column-integrated modules.
4 advanced development tools and demo boards
Freescale plans to offer samples of the S12XS family of devices in the first quarter of 2007. Development software, evaluation boards, and related documentation are available now. The S12XS can be developed using the cost-effective USB HCS08/HCS12 BDM Multilink (USB MultilinkBDM) in-circuit emulator, debugger and programmer. Figure 1 is a picture of its product. The tool's features include: real-time online debugging with HCS08 or HCS12 BDM interface, fast online flash programming, USB-BDM interface, compact size (approximately 3 inches × 2 inches × 3 / 4 inches) supports 1.8V ~ 5.5V HCS08 And HCS12.
The S12XS software development tool is the IDE (Integrated Development Environment) FreeMASTER real-time control and debugging tool. It is an advanced tool with intuitive navigation that can be used for any application development, enabling remote application control in a simple graphical environment running on a PC. It also provides the ability to view application changes in real time in text and graphics. Whether the customer is designed for automotive, industrial, or consumer applications, FreeMASTER provides customers with the real-time system monitoring and the ability to control embedded applications with a PC. Designers can use FreeMASTER for a variety of algorithms and applications. It can be used for real-time debugging, diagnostics, and demonstration, sales, and educational purposes.
In addition, customers can evaluate the MCU with the feature-rich DEMO9S12XEP100 demo board to help download and debug applications in the MCU flash. The EVB9S12XEP100 evaluation board used with the demo board is a versatile evaluation system for evaluating customer application hardware and software, as shown in Figure 2. Using the CodeWarriorTM and Freescale USB-BDM interfaces, the EV kit provides a simpler set of built-in circuits to help speed development. The code writing, downloading, and evaluation of the demo board and evaluation board are very simple.
In summary, each of Freescale's MCU families offers a wide range of price, performance, peripheral and package options to provide automotive customers with a choice of architectures that cover 8, 16, and 32-bit architectures. In each product line and architecture, customers can choose the ideal device that is affordable and suitable for their application needs, and achieve higher performance and more advanced features through easy migration. In addition, they can take advantage of common hardware and software tools to reduce development costs and speed time to market.
Hand Mixer With Rotary Plastic Bowl
Hand Mixer With Rotary Plastic Bowl not only can knead the dough on tables, but also the bowl can rotary automatically, so the dougu will be kneaded more fully.
Description for Hand Mixer With Rotary Plastic Bowl
200W/250W
5 speeds
With Eject button
With two chromed beaters and dough hooks
With 2000ml plastic bowl
Carton box: 69*33*40.5cm 6pcs/ctn
20'GP: 1818pcs 40'HQ:4422pcs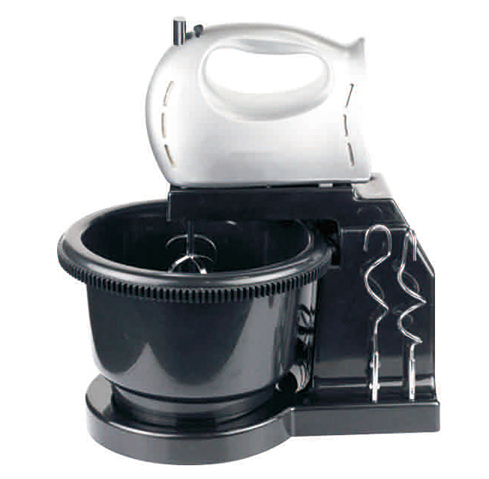 Hand Mixer With Rotary Plastic Bowl
Hand Mixer With Rotary Plastic Bowl,Rotary Plastic Bowl Hand Mixer,Hand Mixer With Rotary Bowl,Plastic Hand Mixer
Flying Electronic Co., Ltd , https://www.flyingelectronic.com